DOT Physicals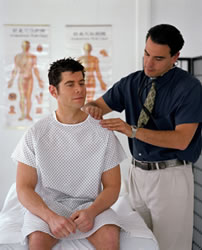 The Department of Transportation (DOT) requires commercial drivers to satisfy certain standards pertinent to their physical health in order to operate large vehicles. Any company that hires truck drivers for commercial functions has to make sure their operators clear a DOT physical. Unless approved by the DOT, they are not allowed to drive. DOT physicals give employers a peace of mind that the drivers are healthy enough to operate commercial trucks.
You can make DOT physicals easy for your business by contacting Dr. Skon. Saint Paul, MN chiropractor, Dr. Skon is licensed to carry out DOT exams and will assess your employees based on DOT standards. The results of the exams, as issued by Dr. Skon, are considered valid by the DOT. For companies that have a large number of workers who have to take a DOT physical, you can plan to have Dr. Skon come to your office location and carry out the tests.
The process itself is quite simple. The exams don't take much time and it only takes around an hour or so for the results to be issued. The operators who clear the tests are then issued a DOT medical card. Upon obtaining this card, the drivers are deemed fit to drive large commercial vehicles, provided they have a valid driver's license. At our Saint Paul, MN office, we offer walk-in exams and can also come to your location if necessary.
The business also has the legal right to ask for further testing. The basic tests that are part of a DOT exam include:
Vision
Hearing
Urinalysis
Blood Pressure Levels
Although drug and alcohol testing are not always part of a DOT physical, the employer may wish to test for those also.
For easy DOT exams, call our clinic in Saint Paul, MN today at (651) 644-3900.