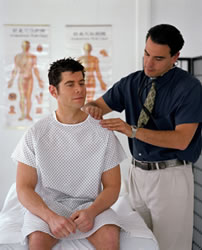 The Department of Transportation (DOT) requires commercial drivers to satisfy certain standards pertinent to their physical health in order to operate large vehicles. Any company that hires truck drivers for commercial functions has to make sure their operators clear a DOT physical. Unless approved by the DOT, they are not allowed to drive.
You can make DOT physicals easy for your business by contacting Dr. Skon. Saint Paul, MN chiropractor, Dr. Skon is nationally certified to perform DOT exams and will assess your employees based on DOT standards.
The process itself is quite simple. The exams take approximately 20 or 30 minutes. The operators who clear the tests are then issued a DOT medical card. Upon obtaining this card, the drivers are deemed fit to drive large commercial vehicles, provided they have a valid driver's license.
The business also has the legal right to ask for further testing. The basic tests that are part of a DOT exam include:
Vision
Hearing
Urinalysis
Blood Pressure Levels
To schedule a DOT Exam call our clinic in Saint Paul, MN today at (651) 644-3900.